What Aiste Loves about Milan. Part Two
The prescription I always use in Milan for a good day is: start with culture, move to shopping and sprinkle it with an aperitivo. Never failed, always was the winner of a good day. In this part, I would love to share with you exactly that – where do my eyes wander when I seek for art and culture, which gladly Milan offers in such variety that all you have to do is tell yourself what you love most. When it comes to shopping Milan may seem easy, yet it can become difficult if you want something off the grid and in a reasonable price range, unseen and yet timeless. I will share with you what I have found through the times living there. And of course – the famous aperitivo. A true Milanese knows how important it is to start the evening right. So if we are on the same page do not hold back – take it all in and share with me your findings, there is nothing more exciting than exploring the recommended gems.
Viva Milano! A love affair, which will never die.
A Culture is a Way of Life
TO GO:
Milan is a city of design. At least for me. So if you seek to find museums or galleries, in the package you will always find incredibly designed spaces, where white walls are not only to showcase art, but also to emphasize the beauty of the built interior environment. My trip as a classic usually starts by visiting Triennale – I enjoy the walk through Parco Sempione to get to Triennale and I usually try to go there at 10 o'clock in order to indulge art after a Milanese breakfast – Triennale Cafeteria offers the tiniest brioche integrale of such delightful taste, you might even hit number 5 if you loose track of time. As well as very well-curated design exhibitions it also has a great bookstore downstairs all placed by topic or designer – all my closest friends know, I might end up spending more time in the bookstore than in the exhibition itself. Ahhh that smell of new books. After Triennale I would usually visit the studio of Castiglioni – it allows me to have the reality check of how geniuses at work lived. However, be sure to book an appointment, since the studio is full of his ready-made objects and all the Objet Trouve – they are careful of how many people they let in. 
Milan has Pinacoteca di Brera, but it also has Pinacoteca Accademia Ambrosiana. I choose the latter. Nothing can compare to a silent retreat in the hallways of an elegant late gothic style palace. It attracts very little tourists and has a sense of magic. After visiting the Pinacoteca – do not rush. Just round the corner is the best gelato in town – Ciacco. I promise – it is the best gelato in town.
To name the other few that are on my list whenever I am in Milan are the following: Hangar Bicocca, Massimo de Carlo Gallery, Fondazione Prada, Galleria Bianconi and of course Studio Guenzani.
Stories about Design
TO SEE:
You can see design, you can buy design, you can be design. Milan will never disappoint you on any of the mentioned paths. When it comes to seeing design, I raise my hands for Rossana Orlandi – well-hidden yet a true gem of contemporary design pieces. If to buy design, I am all into timeless pieces and beauty of clean lines – I choose the Nilufar Gallery and Nilufar Depot. If only to have a glance of what they offer and the space in which it is showcased – it is well worth the trip. To become design, visit Villa Nechhi, I hope it is not only me that when walking in the corridors of the villa it becomes so easy to imagine how you live there. Oh yes – what a wonder for your eyes and imagination.
Direction to Timeless
TO GO:
Shopping has been an ever-changing experience in my life. Choosing Humana over Zara, was a choice I made during the first university years, yet obviously, I did make Zara choices from time to time. Later on, it was all about the unseen, small and peculiar – London vintage and young designers market stools in Notting hill came to being. And only when I came to Milan, did I understand my true inner "shopper" – a lot less, but all things timeless. And so consciousness came to being. Milan taught me the lesson of timeless over trends, good quality over conspicuous consumption. Below I would like to share with you my roads of shopping and the little jewels that were noted in my conscious shopping list. Wok store – for perfectly curated pieces, Wait and See for the forever bohemians, Sous Vintage store, for that silk scarf, Frip Milano for Scandinavian minimalism, BDDW for home goods that will stay throughout generations, Bonvini 1909 to my limitless love for stationery, Dictionary concept store quality meets my tomboy style, Nonostante Marras for all the fairies out there. And of course Libreria Verso – because books will be books forever.
Apéritif by Aiste
TO GO:
Aperitivo in Milano has a lot of categories – good food, great views, timeless ambiance, amazing people. Once you choose – be sure drinks will meet your standards everywhere. For the ambiance and the always buzzing crowd, I choose N'ombra de Vin. It is also very close to Jamaica – the historic Aperitivo place which still has the most remarkable staff and the bar itself seems like transported by a time machine. If you want to see the true Milanese wait until later – they gather there once the tourists leave. A little further yet worth the journey – Ceresio 7 – luxury yet relaxed, a beautiful place with such an overview of the city – one drink will not be enough to look around. When the weather gets warmer I choose God Save the Food in Piazza del Carmine. It is such a beautiful location in the middle of the city, yet so serene. Gives me shivers every single time. If you stay there long enough – just around the corner is the cult nightclub – il Patuscino, if only for a dance in the rhythm of the 80s it is worth the visit. Let's be honest – Aperitivo can sometimes be more about food than about drinks if I am very hungry and feel like simple yet delicious is the way to go – I head to Fonderie Milanesi. When first time in Milan, you can get a little lost while looking for it – but remember all that is worth seeing is a little hidden, so take the narrower roads to find the unexpected.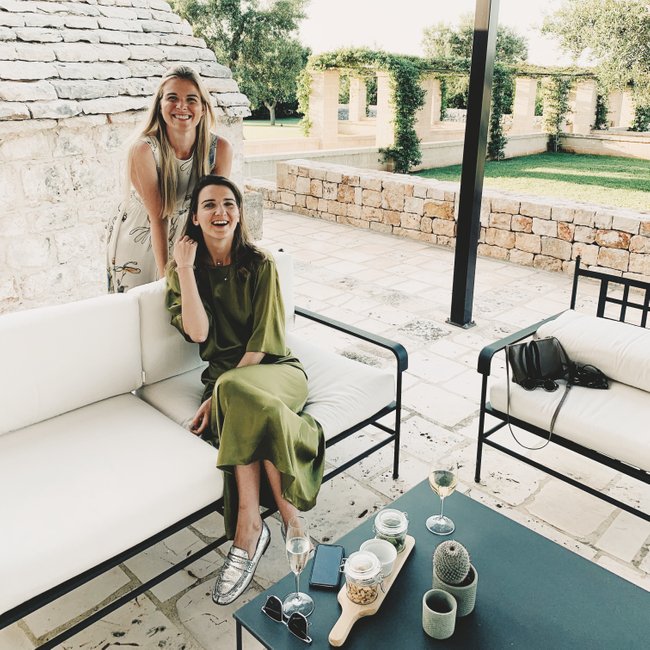 TO JOIN:
My sister Lina and I have the same passion for traveling. Also, we are sharing the same destiny of living in different places. That was one of the reasons why we created Curated by Sisters. We wanted to create a worldwide community, where one can meet like-minded, no matter where they live – Milan, London or even Sri Lanka. And last but not least, managing to stick to their beloved rituals – like morning Yoga or Pilates. This journey is full of adventures, daily healthy rituals, journeys to the unknown places and rendezvous with tradition and all it's possible twists made to suit our contemporary lifestyle – this is our home and we are opening our hearts to you all. We wish to create a place where we can share all of this with everyone.